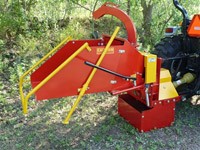 Have you been looking at your property, noticing that it is time to start clearing away foliage and fallen limbs? Is it time to get your acreage back under control? A WM series PTO wood chipper from WoodMaxx Power Equipment can help, so that you can get back to the important things– enjoying your land. If you are ready for a PTO wood chipper that you can rely on day in and day out, we are here to help you with the chippers, parts, and accessories that you need.
We are proud to offer the WM series PTO wood chipper to customers who are looking for the absolute best quality and reliability. What makes our machine stand out from the competition is our dedication to innovative features, and build quality, while still implementing trusted designs that will get the job done.
WoodMaxx offers 2 models of WM series chippers. The main structure of these two machines is the same, but you can choose between two different in-feed power systems, the WM-8M a mechanical auto-feed system uses a gear box and drive shaft to power the upper feed roller, and the WM-8H a hydraulic auto-feed system incorporates a self-contained hydraulic pump and reservoir to power two hydraulic in-feed motors. No need for hydraulics from your tractor.
WoodMaxx chippers are fitted with high carbon, high chromium, A-8 tool steel blades. For added security and strength WoodMaxx exclusively uses 12.9 HOLO-KROME blade bolts to fasten the blades to the flywheel. Our unique design allows the blades to be changed out quickly by a single operator in a fraction of the time required on some other machines.
WoodMaxx WM series wood chipper utilizes double in-feed rollers that reduce the amount of time and energy required to chip brush, limbs, and other debris. The lower feed roller allows for a smooth entrance, while the upper feed roller is spring loaded to keep constant pressure on the limbs.
In order to make all of our customers confident in their purchase, we offer a robust 2-year warranty on all WoodMaxx chippers. In addition to this warranty, replacement parts are listed on our website, and just a few clicks of the mouse away. Also consumable parts like blades and belts are discounted at the time of purchase of one of our chippers. Contact us today to see which of these outstanding machines will help you take back your land.
[Back]